Brands

With a focus on home product installations, we are expanding both domestically and into Asia and other countries. We are also focusing on the development of eco-friendly materials and the energy management field, with the aim of proposing true life solutions.
Kitchens
Toclas Kitchen
The Bb series comes with marble sinks and faux-marble countertops as standard, making selecting a model even easier. The BERRY series features high-back counters that make kitchens easier to clean and to use, and the mirrored surfaces are available in 114 colors to meet customers' unique tastes. The DOLCE X series takes the possibilities of an open kitchen to the limit. Our internally developed kitchens with standard-equipped faux-marble worktops will help to color our customers' life.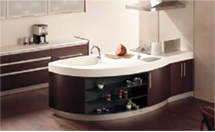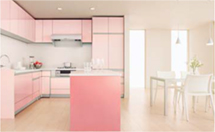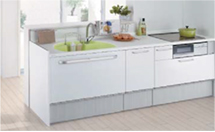 Bathroom
Toclas Bathroom
Our bathtubs include the ERGO bathtub, designed with human ergonomics in mind, and the BROCCO bathtub, which provides a unique soaking experience. Both are our own design faux-marble tubs that not only look good but help save hot water, too. Also, the tub, floor, and walls are each designed to be easy to clean, yet another way to make our customers' daily lives better.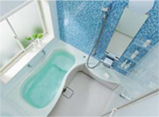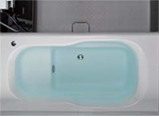 Bathroom Vanity Units
Toclas Dresser
We come face-to-face with ourselves every day in our bathrooms, which makes it all the more important that they are clean as well as easy to use. But they should be attractive as well. Making beautiful and comfortable bathrooms has driven our development of the Toclas series of faux-marble bathroom vanity units.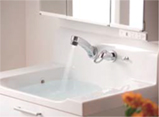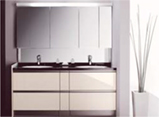 Water purifiers
Our industry-leading water purifying filters make drinking water delicious, by extracting 13 specified contaminants while leaving in important minerals. We're also working on carrying the water purification even further, with a cooking water filter that applies an electrolysis step to improve water alkalinity for better taste. We expect sales to increase not only domestically, but also in Asian countries such as China and Indonesia, where we are actively expanding our business.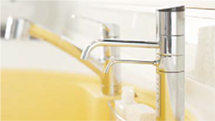 WPC (Wood Plastic Composite)
One of our core technologies is wood plastic pellets, developed from the application of wood processing technology and chemical products technology. We are currently focusing on the development of exterior building materials, such as for wood decks, and we expect demand for these materials to increase as an environmentally friendly building material. This will lead to applications beyond the home construction market, as industrial materials using high loading and high dispersion technologies and surface modification technologies.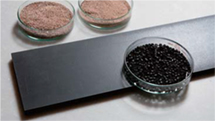 Future business expansion

---

Increasing overseas sales

In recent years we have established a market for our kitchens in Asia, mainly in China and Taiwan, and we plan to strengthen our sales there around our unique Toclas kitchens with their faux-marble, surfacing, and water purification technologies.

Entering the energy management field

In November 2012 we announced our alliance with Denso Corporation to strengthen our energy management technologies in the smart house field. Over the coming years we plan to create new value through product and technology development, aided by similar alliances with other companies.